UNITECH QATAR's Basket Tray Systems enable fast and simple connections with limited need for tools. UNITECH QATAR's design allows continuous airflow, and prevents the buildup of dust, contaminants and bacterial proliferation. Strong, flexible and adaptable, UNITECH QATAR's Basket Trays come in a full range of sizes and is made with high-strength welded steel wires. Support accessories for any application or situation are available. Basket Tray is produced by first welding a net, forming the channel and then finishing after fabrication.


Standards:
– IEC 61537:2007
– BS EN 61537:2007
– NEMA VE 1 – 2009
– NEMA VE 2 – 2006
– NEC (ANSI / NFPA 70)
System Overview
Basket Trays
Height: 55 mm, 80 mm, 105 mm and 150 mm.
Materials: Stainless steel, hot-dip galvanized to DIN EN ISO 1461
Wire Ø: 4mm
Basket Trays and accessories are also available in other dimensions and additional plastic coating upon request.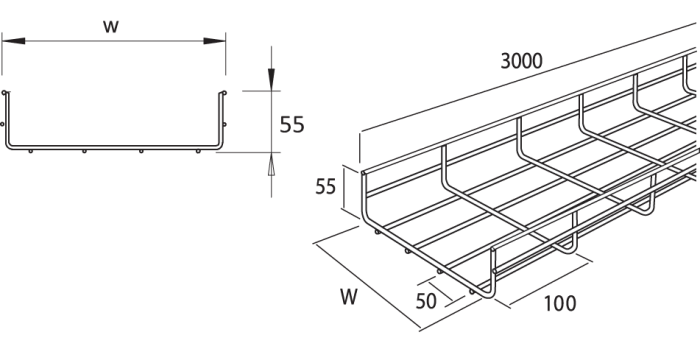 BT 55 | Height 55 mm
Widths: 50, 100, 150, 200, 300, 400, 500, 600 mm
BT 80 | Height 80 mm
Widths: 100, 200, 300, 400, 500, 600 mm
BT 105 | Height 105 mm
Widths: 100, 150, 200, 300, 400, 450, 500, 600 mm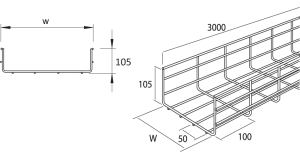 BT 150 | Height 150 mm
Widths: 200, 300, 400, 450, 500, 600 mm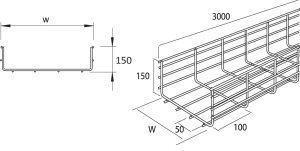 ---
90º BENDS
Heights: 55 mm, 80 mm, 105 mm and 150 mm.
Widths: 50 – 600
Materials: steel, hot-dip galvanized to DIN EN ISO 1461