Cable Support Systems are well designed to provide necessary support for cable trays, cable ladders and trunkings. Cable supports are manufactured according to common standards from high quality raw materials.


Channel
SFSP Lebanon's metal framing channel is cold formed on modern rolling machines from low carbon steel manufactured according to BS 6946:1988. A continuous slot provides the ability to make attachments at any point.
Lengths
Standard length: 3000mm with ± 3.2mm length tolerance.
Custom lengths are available upon request.
Finishes
Standard Finishes: Pre-Galvanized finish (ASTM A653M coating G90 and G60). Hot Dip Galvanized after fabrication (ASTM A123 or BSEN ISO1461:2009) . Other custom coatings are available upon request.
Standards:
– IEC 61537:2007
– BS EN 61537:2007
– NEMA VE 1 – 2009
– NEMA VE 2 – 2006
– NEC (ANSI / NFPA 70)
CCH421 41x21x2.5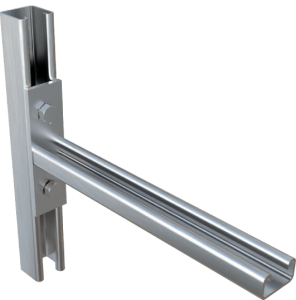 Base plate : height (h) x width (b) x thickness (t)
100 x 50 x 8
-In the case of concrete support frame, use anchor M10
-In the case of concrete C-Channel frame, Hex bolt M8.
** Connection force (pull-out force) : 3.10 (kN)
CCH421 41x41x2.5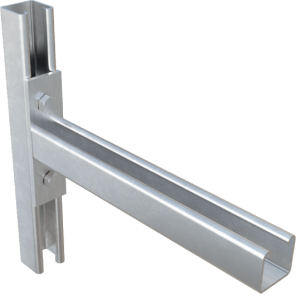 Base plate : height (h) x width (b) x thickness (t)
140 x 50 x 10
-In the case of concrete support frame, use anchor M16 .
-In the case of concrete C-Channel frame, Hex bolt M8.
** Connection force (pull-out force) : 7.50 (kN)
CCH422 41x21x2.5 B2B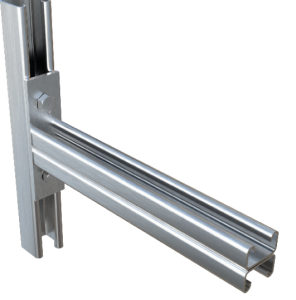 Base plate : height (h) x width (b) x thickness (t)
140 x 50 x 10
-In the case of concrete support frame, use anchor M12.
-In the case of concrete C-Channel frame, Hexbolt M8.
** Connection force (pull-out force) : 4,8 (kN)
CCH442 41x41x2.5 B2B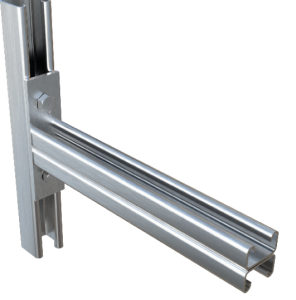 Base plate : height (h) x width (b) x thickness (t)
180 x 60 x 12
-In the case of concrete support frame, use anchor M16.
-In the case of concrete C-Channel frame, Hex bolt M10 .
** Connection force (pull-out force) : 8,30 (kN)